Stroke victim purchases trike from Bicycle Shop
Friday, May 6, 2022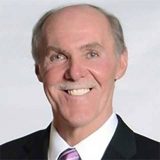 Posted by: Steve Kimmel
Karl Ackermann is a disabled Army veteran who was looking for a racing trike. Brooks Fetters, owner of the local Huntington Bicycle Shop, along with STS Bikes and Peace Cycling Performance saw the need and worked together to design a racing trike for Ackermann. Pleased with the results, Ackermann purchased the trike and it was picked up at The Huntington Bicycle Shop on Wednesday, May 4.
Ackermann is a 20 year veteran of the U.S. Army where he was an analyst for the military. After retiring he became a network consultant for businesses in the area.
He was born in Pittsburg, Pennsylvania, but grew up in Thailand where his father was a civil engineer. Ackermann joined the U.S. Army in 1979 and served in Korea, Germany, Italy, Texas and Wisconsin.
Two years after his retirement he suffered a massive stroke on September 29, 2001 where his left side was affected, and he was relegated to a wheel chair. It took Ackermann six months after his stroke to get back on a bicycle where he needed power straps and clips to help him navigate the ride.
"I've been riding a Terra Trike (a recumbent bike) that sits close to the ground. The trike is heavy and sitting so close to the ground kept me from riding very fast. I always felt that I held other riders up but was always blessed with having someone ride slower to keep me company," said Ackermann.
It was in Italy that Ackermann began his love affair with biking. Ackermann says, "He loves to climb hills. I love to feel the burn in my legs." He continued, "I bought my first road bike in 1991 and rode the narrow streets and hills of Italy. Italy is where I fell in love with riding hills."
Fetters said, "No one makes racing-style trikes so I contacted STS Bikes, Rushville, Indiana, where I purchased the 10-speed trike at a discounted price, and then discounted the price to Ackermann so he could have the 10-speed conversion racing trike built. Ackermann came into the shop where we fitted him for the trike."
Ackermann said, "Since no one builds racing trikes, the back wheels had to be rented from Steve Peace, owner of Peace Cycling Performance, San Diego, California, and Fetters retrofitted and assembled the trike specifically for me."
Fetters said, "Not only is Karl riding a trike built in the United States, but he is riding a trike built right here in Indiana."
Peace Cycling Performance website states, "Peace was a former U.S. Navy Officer and a bicyclist, riding 200 miles a week. However, on October 16, 2006, when he was 42 years old and one month before his fourth deployment to Iraq/Afghanistan in five years, a massive stroke hit his brain and body leaving him unable to speak, use his arm or walk independently. What made it worse was that he lived alone so no one found him." The website went on to say, "Luckily, a shipmate found him when he didn't show up on the ship for 14 hours."
Among the things Peace had to give up was the Navy, which he had been in for 16 years. He was medically retired as a Lieutenant Commander with an honorable discharge. Physicians were unable to identify the cause of his stroke, and prescribed a cane for him, and a hard plastic brace for his leg. His right side is still paralyzed and walking remains difficult. With his determination and tenacity, he launched a second career in triathlons and cycling. You can read more about Peace Cycling Performance at https://www.peacecyclingperformance.com/.
Fetters said, "Karl is going to be more efficient in his bike rides with our riding group and is going to enjoy the ride much more." Fetters went on to say, "Now that Karl has this trike he will be able to keep pace much easier. This trike has high pressure tires and will allow Karl to extend his legs fully to make his ride much easier."
Shown in the photo, from left, are Brooks Fetters, owner, The Huntington Bicycle Shop; Karl Ackermann, owner of the newly designed trike; Elton Marzon and Andy Kirchoff, both from STS Bikes, Rushville, Indiana.