Stackhouse named CHO at Pathfinder Services
Friday, May 6, 2022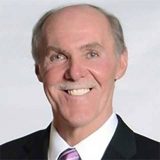 Posted by: Steve Kimmel
Pathfinder Services president and CEO Danielle Tips has announced the appointment of Chris Stackhouse as the new chief habilitation officer (CHO) for the organization.
Stackhouse has many years of corporate experience with diverse work history, perfectly aligning him as the new CHO. He has been the Director of Residential Services/interim executive director for CASS Housing for the past year and a half. He was responsible for all residential, employment and educational programs.
"Chris is recognized for his passion for serving others," says Tips.
"His knowledge in human services and business operations make him uniquely qualified for our diverse programming."
Stackhouse received his bachelor's degree in Business Administration from Indiana Tech and completed his master's degree in Organization Development from Bowling Green State University.
Stackhouse said, "I am thrilled to join the Pathfinder Services team!"
"I have admired Pathfinder for a long time as a leader in the disability services field and am so grateful for the opportunity to join an organization that has such an incredible legacy."
Stackhouse will begin his role as CHO at Pathfinder Services on May 9.