Join OSV as they present OSV Talks on June 15
Friday, May 6, 2022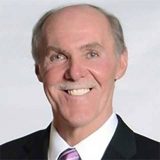 Posted by: Steve Kimmel
Our Sunday Visitor is inviting the public to take a day to spark their inner 'Innovator' and join them for the LIVE recording event of OSV Talks at Huntington University on Wednesday, June 15. OSV Talks was built with a mission to inspire creativity and innovation by prominent Catholic leaders in our world today.
Get a chance to witness live recordings of talks on various topics that will reach and inspire millions of Catholics.
Discover more at osvtalks.
The OSV Talks LIVE Recording Event will be held at the Merillat Centre for the Arts (MCA) on the campus of Huntington University.
WHAT WILL THE DAY LOOK LIKE?
As a member of the audience, you will participate as an observer of the live recording. These talks will not be released until 2023, so you will be getting an exclusive 'first look' before any other viewers. Below are the available ticket options and the agenda for the day of the event:
ALL DAY TICKET: 9 a.m. to 3 p.m. (Lunch included)
MORNING SESSION: 9 to 11:30 a.m. (Lunch not provided)
Andreas Wilmer – Happiness and Engagement at Work
Katie Herzing – The Church and Change
Jonathan Lewis – Spiritual Accompaniment
Bradley Gregory – Science and the Faith
Mary Parrish – The Joy of the Lord
Jim Coleman – Finding Your Faith
AFTERNOON SESSION: 12:30 to 3 p.m. (Lunch not provided)
Eric Groth – Catholic Films for Atheists
Alejandra Herrera – Hispanic Ministry and Latino/a Youth
Bear Woznick – The Wild Adventure of God's Will
Fr. Joshua Whitfield – Redeeming Catholic Preaching
Melissa Foley – Healing and God's Love
Giancarlo Bernini – The Mysteries of Faith
HOW DO I ATTEND?
To reserve your spot click https://www.eventbrite.com/e/osv-talks-live-recording-tickets-318966757157.