Purple Heart Corridor, monument dedication
Friday, August 5, 2022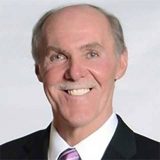 Posted by: Steve Kimmel
The City of Huntington will recognize National Purple Heart Day with a dedication ceremony for a 16-foot-tall limestone obelisk marking the west end of Huntington's Purple Heart Corridor.
The public ceremony will begin on Sunday, August 7 at 2 p.m.
Huntington's Purple Heart Corridor runs along West Park Drive near the Forks of the Wabash trailhead to the Veterans Memorial at Memorial Park. The new obelisk serves as an additional reminder of the sacrifices our veterans have made to protect our community and a tribute to their service.
Huntington resident Gloria Holzinger championed the project from the start. She says former Mayor Brooks Fetters, Mayor Richard Strick, Huntington County Chamber of Commerce executive director Steve Kimmel and a dedicated project committee share credit for helping to garner community support for the Purple Heart Corridor project.
"I will continue to do whatever it takes to thank all our veterans and their families for their service, especially those veterans that lost their life in combat for us and those who were critically injured while serving their country," Holzinger said.
The obelisk was installed the weekend of July 23, but planning and fundraising efforts began in 2019. Before that, then-Mayor Fetters and the Huntington City Council passed a resolution to recognize Huntington as a Purple Heart City in 2015. The Purple Heart Monument that is already part of Memorial Park was installed that same year.
Initial plans for the corridor's west end called for an archway across West Park Drive near the Forks of the Wabash trailhead, but utility locations in the area and other logistical challenges necessitated a new approach. The city worked with donors and the project committee to approve the obelisk design. A few finishing touches remain to be completed."
The design changed over the years in light of engineering logistics but I am proud of this monument as a prominent feature anchoring the west end of our local Purple Heart Corridor. While a few beautification items remain outstanding, they will be addressed at a later date while we dedicate the marker on National Purple Heart Day. I hope you can join us," Mayor Strick said.
The City also would like to recognize the Huntington County Community Foundation for its efforts in organizing a fundraising campaign.