Parkview hospitals recognized for excellence
Tuesday, November 22, 2022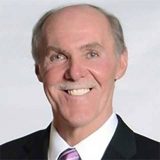 Posted by: Steve Kimmel
Four Parkview hospitals – Parkview Huntington Hospital, Parkview LaGrange Hospital, Parkview Wabash Hospital and Parkview Whitley Hospital – have been recognized for excellence by The Chartis Center for Rural Health with a 2022 Performance Leadership Award.
Compiled by The Chartis Center for Rural Health, the Performance Leadership Award honors top quartile performance (75th percentile or above) among rural hospitals in any of three categories: quality, outcomes and patient perspective.
Parkview Huntington Hospital was honored in the outcomes category. The hospital also received recognition in this category in 2019.
"We are honored to receive this award from The Chartis Center for Rural Health," said Doug Selig, president of Parkview Huntington Hospital. "It's a great validation of our co-workers' efforts and the importance they place on the procedures and processes that directly drive quality of care. We view healthcare as a team effort that requires engagement from all members of the healthcare team."
Among Parkview Huntington's sister facilities also honored, Parkview Noble Hospital and Parkview Wabash Hospital were each recognized in both the outcomes and quality categories. Parkview LaGrange Hospital was recognized in the quality category.
The Performance Leadership Awards are based on the results of the Chartis Rural Hospital Performance INDEX™, the industry's most comprehensive and objective assessment of rural hospital performance. INDEX data is trusted and relied upon by rural hospitals, health systems with rural footprints, hospital associations and state offices of rural health across the country to measure and monitor performance across several areas impacting hospital operations and finance.
The announcement was made in conjunction with the Nov. 17 observance of National Rural Health Day.
"Although the last two years have placed unprecedented pressure on the rural health safety net, the dedication to serving the community that we're so accustomed to seeing from rural hospitals across the country hasn't wavered," said Michael Topchik, National Leader, The Chartis Center for Rural Health. "Let us celebrate the power of rural on National Rural Health Day and honor the facilities working tirelessly to provide access to high quality healthcare services to their communities."
The Performance Leadership Award is one of five awards the organization hands out annually to recognize rural community and critical access hospitals. Amidst uncertainty, transition and strain, the top performers are acknowledged for excelling in managing risk, achieving higher quality, securing better outcomes, increasing patient satisfaction, and operating at a lower cost than their peers. These groups serve as a benchmark for other rural facilities as they strive to achieve similar results and provide a blueprint for successfully navigating the uncertainty of the new healthcare.