Happy 175th Birthday Huntington!
Friday, September 8, 2023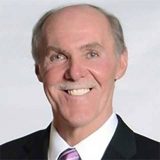 Posted by: Steve Kimmel
The City of Huntington will celebrate its birthday on Constitution Day, September 17, 2023. This weekend will be a delightful celebration of re-enactment over two days with presenters representing our community's beginnings. The town of Huntington was incorporated February 16, 1848 making our community a total of 175 years old with the City established September 17, 1873.
Huntington was named for Samuel Huntington, shown in the photo, a congressman from Connecticut, who signed the first United States Constitution. The country we know today was formed by this Constitution, drafted in 1787.
What most people don't know is that Samuel Huntington is believed to be the first de-facto president of the United States in Congress Assembled when the original Articles of Confederation and perpetual Union were ratified. The thirteen original colonies formed an alliance in 1781 when this document was signed.
Samuel Huntington presided over the Continental Congress until the election of President Thomas McKean. Eight more "presidents" would follow until the articles failed and the writers of the U.S. Constitution expressed a desire to form a more perfect union.
Elias Murray, a nephew of Huntington, served in the War of 1812 in Tennessee. After the war he moved his family north to Dallas Township (Andrews, Indiana) and became a neighbor of Artemus Woodworth. Woodworth had set up a station to trade furs at Silver Creek along the Wabash River, and is considered to be the area's first permanent white settler. The area was originally called "Flint Springs" for the rich deposits of flint found near the Forks of the Wabash that Native Americans used for their tools and weapons.
Murray and Champion and Joel Helvey, land agents of General John Tipton, purchased the original government-owned 171.19 acres October 12, 1830 for the future site of Huntington. Murray took an active part in local political affairs and laid out the city, naming it Huntington, after his uncle.
The U.S. Constitution was signed July 4, 1776, and George Washington became President in 1789. President Samuel Huntington, like the others named before Washington, became a forgotten founder, but his name lives on in our city.
Come celebrate the City of Huntington's birthday on Saturday, September 16 in the Zurcher Auditorium at Huntington University, doors open 6:15 p.m., program at 6:30 p.m., and on Sunday, September 17 in the Courthouse Rotunda at 2 p.m. Presenters include Paul Revere, George Washington and Samuel Huntington.