Wilson to retire after long career in Huntington
Friday, September 8, 2023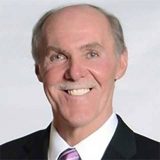 Posted by: Steve Kimmel
A long-time local realtor and developer, Jim Wilson, has decided to hang up his cleats and retire from his business, Wilson Realty and Development, Inc. The building the business is located in, two properties and all of the interior furnishings will be sold at auction on Saturday, September 30. The business is located at 261 W. Market Street.
Wilson wrote a paper for the Cosmopolitan Club, Huntington, where he said, "I know that I'm in the twilight of my life. I've been so richly blessed in so many ways throughout my life. I'm not worthy, but then nobody is worthy in the presence of Christ."
He went on to say, "Lately, I've been reflecting on my life. I've worked hard all my life, doing my best and I've achieved far more than I thought possible, but there's so much more I could have done!"
Wilson, originally from Richmond, Indiana, graduated from Richmond High School. He then went on to study mechanical engineering at Purdue University, where he graduated in 1964. Wilson still considers the most enjoyable activity was as player-coach of their fast-pitch softball team, which won the campus championship his last two years against all the fraternities and residence halls.
After graduating from Purdue in 1964, Wilson accepted a position at Chevrolet-Muncie, a transmission plant with 2,000 workers, and was one of a very few engineers with an MBA selected to be groomed for top management. After working in the manufacturing plant with hundreds of hourly workers, learning everything there was to know, and being sent to Detroit and Flint, Michigan for continuous training, he decided factory work was not for him.
Wilson then learned that Huntington College (now University) was looking for an economics professor. He was hired and came to HU to teach economics and business for half the salary at Chevrolet. Along with teaching, he has written many papers and three books on various subjects and continued this endeavor after leaving the College. At the College he soon met baseball coach, Ray Zimmerman, and volunteered to help with the team. When Zimmerman made the decision to move back home to Canada, he recommended Wilson for the coaching position.
Over the 13 years Wilson coached, the HU team won the conference championship 12 times and were undefeated six years including the last four years, with a conference winning percentage of 90 percent. While he coached, HU also won the NAIA District 21 state championship three times, runner-up four times and second runner-up three times. Wilson was named conference Coach of the Year 11 times, Indiana Coach of the Year twice and Midwest Coach of the Year in 1974. Forest Glen baseball facility was also transformed from a pasture to a ballfield under his leadership.
Wilson's real estate sales, building, developing, appraising and investment career began in 1978 after leaving Huntington College. He invested in real estate houses, designed and built Avon Place apartments and his own home. He has also developed several subdivisions. His office, which is being sold at auction, was originally a Texaco Service Station which he remodeled from his own design. His home church, Trinity United Methodist, owns a retreat center at Lake Webster which Wilson was the general contractor for.
"I've personally sold over a hundred million dollars in real estate, but it's in developing and building that I've had the most impact," said Wilson. He continued, "I directly and indirectly have added over $40 million to the tax base of Huntington City and County."
Wilson also credits coming through many of life's challenges with support from his wife Gloria, good friends and the good Lord's help. He is thankful that his two sons, Todd and Eric, live close to home at present. For nine years Todd and his family were missionaries in Ukraine, and Eric was in Army Intelligence in Iraq for eight years. Both are graduates of Huntington North High School and Huntington University.
Amongst the many community service projects he was involved with, many will remember Wilson for his provision of 2,500 American flags each year that decorated the streets of Huntington on the Fourth of July for 20 years. Wilson also served as president of Habitat for Humanity for several years and provided an office and secretarial help. He chaired the community free Thanksgiving dinner, hosted by Trinity United Methodist Church, for 32 years.
Wilson said, "So, no matter which fork I could have taken, the good Lord has abundantly blessed me and my family, just as he would have if I'd chosen another road, because he can use us wherever we go and whatever we do." He has had many health struggles in recent years and concluded, "I hope people don't remember me the way I am now, but the way I was in my prime and how I'm going to be in Heaven – young, vibrant, high energy, physically strong, healthy and mentally alert and the eternal optimist."