Entrepreneurial gathering held on August 30
Friday, September 8, 2023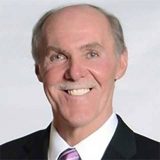 Posted by: Steve Kimmel
The Clubhouse, the picturesque setting of the former historical Lafontaine Golf Club, was the location of the Huntington County Chamber of Commerce's first entrepreneurial gathering 'Meet & Greet.' The event was held August 30 with over 40 entrepreneurs and prospective entrepreneurs attending.
Steve Kimmel, executive director of the Chamber, began the evening by explaining the newly formed Entrepreneurial Leadership Council under the direction of the Chamber.
Kimmel said "The goal of the Council is to grow entrepreneurial wealth, and encourage more entrepreneurs to open businesses or to attract more businesses to open in our county. It is also a way for entrepreneurs to get to know other like-minded individuals and together encourage and support each other."
Kimmel then introduced John Niederman of the Fortitude Fund. The Council was formed from a conversation between Kimmel and Niederman. "After three meetings with the entire entrepreneurial group, we felt it was time to form a sub-committee and begin focusing on the entrepreneurs themselves. This is how the first 'Meet & Greet' began. We plan to hold four gatherings throughout the year with other meetings to be held in Roanoke, Warren and Markle," said Kimmel.
Niederman explained that he has been retired from Pathfinder Services for three years and began his connection to the Fortitude Fund one year ago. He further explained that it is an entrepreneurial support agency designed to help entrepreneurs in the beginning and growth phase. We ask "How can we help those who need start up support? $1,000 grants are issued in the startup phase." He went on to say, "It gets you to know you are recognized as someone in the region who can grow." Learn more and apply at fortitudefund.com.
Troy Johnson, owner of Incipio Devices and The Clubhouse located at 6137 N. Goshen Road, spoke next about his venture rebuilding The Clubhouse. He welcomed those in attendance and spoke about his life in Huntington and his career in the medical device industry. When he purchased the former Lafontaine Golf Club it was in complete disrepair. The building was gutted and redesigned with a European flair. The property was also completely transformed from its former golf club days. Johnson said "it was a fun project," and thanked Eric Fawcett of Bippus State Bank for his help in funding the project. He said, "Hopefully the community enjoys and appreciates The Clubhouse which was originally opened in 1929."
The Clubhouse is available for weddings, showers, business events and seats 350+ inside and 500+ outside. For more information visit clubhousevenue.com.
Rod & Tina Feller and daughter, Taylor Reeder, owners of Ritzy Dips, presented their business, which began with a five pound bucket of pigment in the home kitchen. As entrepreneurs in the beauty industry, they began experimenting with acrylic dip powders for use on finger nails. They formulated a whole system to make beautiful nails and began this endeavor during the pandemic on November 21, 2020, when the website was launched. All of their sales take place online since they do not have a retail store to purchase their products.
They explained that they did all of the research and experimentation themselves, and started with a Christmas collection. They further said the business received 82 orders on the first day and they were instantly debt free. The business moved from the kitchen to a private location at 14 W. Market Street, and their online following has grown to 10,000 Facebook members, 40,000 Instagram followers and they ship to 15 countries. Visit ritzydips.com.
Brooks Fetters said that he has invested his life in Huntington, and the people here have invested in him. Wife, Barb, and Brooks own two businesses in Huntington, The Huntington Bicycle Shop, and the Purviance House Bed and Breakfast. Brooks explained that The Huntington Bicycle Shop is located in the lower level of the former Nazarene Church building at 45 Etna Avenue, Suite 100, with Whimzy, owned by entrepreneurs Joe and Rachel Zahm, right out his back door. The Bed and Breakfast is right around the corner on South Jefferson Street. Fetters explained that the shop has bicycles for everyone and they don't care what your ride. He said, "It is a no shame shop. We'd love for you to buy your bikes from us, but we just want you to have fun riding – we will help you."
The Huntington Bicycle Shop opened in October of 2020, sells bicycles, and is fully staffed with repair people who are professionals at working on new, used and vintage bicycles. Fetters also specializes in bicycle restoration. The shop carries Aventon E-bikes, is associated with STS in Rushville, Indiana, which helps you design your own bike and they build it, and has become a dealer of Cannondale bicycles. He also thanks Bippus State Bank. You can reach the bicycle shop by calling (260) 224-0232 or visit their website at huntingtonbicycleshop.com/.
The next Entrepreneurial 'Meet and Greet' is tentatively scheduled at The Saloon in Roanoke in November. Further information will be shared as it is received.