Willour inducted into Credit Union Hall of Fame
Friday, October 28, 2022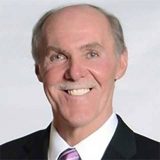 Posted by: Steve Kimmel
Pictured above is Kevin Willour, right, of Beacon Credit Union as he accepts his awards from League Chairman Dave Abernathy of Via Credit Union.
Kevin Willour, president of Beacon Credit Union, was inducted into the Indiana Credit Union Hall of Fame during the Indiana Credit Union League's annual Convention. He was honored at the Chairman's Awards Banquet where he also received the League's Professional Achievement Award, which recognizes Indiana credit union presidents/CEOs for their professional accomplishments, commitment to the credit union movement, and contributions to their credit union and community. The Indiana Credit Union League's statewide convention was held in Indianapolis.
Willour has worked for the credit union since 1989, when it was called Wabash County Farm Bureau Credit Union, and was much smaller in size. Today, Beacon Credit Union's assets total $1.5 billion and it serves more than 46,000 members in 50 Indiana counties. Under Willour's leadership, the credit union has introduced several products and services, and led the first-of-its-kind credit union acquisition of an industrial ag lending company along with guiding multiple credit union mergers. Beacon Credit Union has also achieved the distinction of being the largest agricultural credit union ag lender in the United States.
"Being inducted into the Indiana Credit Union Hall of Fame is an achievement that I share with my mentors, coworkers, and family, who all played an integral part in my career," Willour said. "When I look at the list of others who have received this distinguished award in the past, I am humbled and honored to be included."
In addition to his work at the credit union, Willour is a past chairman and current board member of American Share Insurance, which serves credit unions nationwide. He has also served on committees for the League, and he is a past president of the Financial Cooperative Association. His service to his community includes serving as a board member of the Honeywell Foundation and president of the Wabash Kiwanis Club.