Purple Heart Monument reverse flag questioned
Friday, May 19, 2023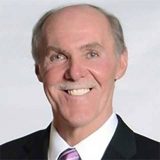 Posted by: Steve Kimmel
Purple Heart recipients are honored by the Purple Heart Monument visible along West Park Drive (the Purple Heart Corridor), across from Huntington Nursery. A "reverse flag" is painted on the monument, and several people have questioned this display.
A local veteran shared the answer with Mayor Richard Strick, "… during the Afghanistan and Iraqi wars (early 2000s), the U.S. military adopted a patch for soldiers to wear on their right sleeve. This flag (similar to the one on the monument) is 'running into battle.' Also, as an U.S. Army veteran, Green Beret, with 24 years of service… the Purple Heart is earned in combat, not peacetime. This monument honors all of those that 'ran into battle' and I am honored to have it in our town."
Further research by the Mayor shows that military vehicles and equipment such as NASA's space shuttles, also have the "reverse flag" on one side to recognize the blue field leading the way in forward motion.