Kuhlenbeck opens State Farm Insurance office
Friday, January 28, 2022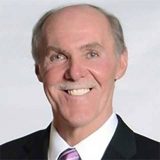 Posted by: Steve Kimmel
Damon Kuhlenbeck, is the owner of a new State Farm Insurance business, which recently opened in Huntington. The new office is located at 1420 W. Park Drive. Kuhlenbeck assumed the office from Beth Ebersole.
Kuhlenbeck has worked in different positions in the area after serving in the United States military. He has been a tennis coach, and works with the youth group at his church. He is married to Brittany, a physicians' assistant in Ossian.
Those interested in receiving a quote for insurance can reach Kuhlenbeck at (260) 356-1000, by email at damon@mysfagentdamon.com or by visiting his Facebook page here.
The Huntington County Chamber of Commerce held a ribbon cutting at the State Farm Insurance office, newly owned by Damon Kuhlenbeck, at 1420 W. Park Drive. Shown in the photo, front row, from left, are Everly and Erin Daugherty, State Farm Insurance; Terry Miller, Terry Miller Realtor – Century 21 Bradley and Chamber Ambassador; Eileen McMillan, State Farm Insurance and Chamber Ambassador; Hank Ifer, State Farm Insurance; Brittany Kuhlenbeck, Damon's wife, Damon Kuhlenbeck, owner, State Farm Insurance; Teri Kuhlenbeck, Damon's mother; Mitchell Kuhlenbeck, Damon's brother; Molly Burton; and Ashley Smothers, Place of Grace and Chamber Ambassador. Back row, from left, includes Noah Tobias, State Farm Insurance and Bruce Barger, Kuhlenbeck's father-in-law.