Foundation Breakfast Series Spring events
Friday, January 13, 2023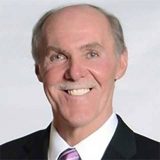 Posted by: Steve Kimmel
The community of Huntington and the surrounding counties are invited to join the Huntington University Foundation for its annual Foundation Breakfast series. The series kicked off in the fall of 2022 and continues through April.
The remainder of the events in the series include:
March 8 – Mitch Frazier, president of AgriNovus. Topic: Agbioscience: Creating Impact Through Innovation.
April 12 – Jonathan Sacket, vice president of marketing and communication at the Northeast Indiana Regional Partnership. Topic: Advertising with the Best.
To RSVP for each breakfast, visit huntington.edu/FoundationRSVP.
The Foundation Breakfast series is held on the second Wednesday of each month, October-December and January-April, and is open to the public. Each breakfast begins at 7:45 a.m. and concludes by 9:00 a.m. Breakfasts take place in the upper level of Habecker Dining Commons on Huntington University's home campus.
The cost to attend each breakfast is $10, a portion of which will help support area students attending HU through the Hometown Grant. First-time attendees enjoy a complimentary breakfast courtesy of The Purviance House Bed and Breakfast, Barb and Brooks Fetters, proprietors.
Founded in 1938, the Huntington University Foundation exists to support the mission of the University by promoting education and fostering a synergistic relationship between the University and the Huntington County community and surrounding area. Learn more about the Foundation's history and ways to support its goals at huntington.edu/Foundation.