Chamber leadership transitions January 9
Friday, January 13, 2023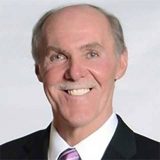 Posted by: Steve Kimmel
The transition of leadership of the Huntington County Chamber of Commerce's board of directors took place Monday, January 9 at the January meeting. The new directors assumed their roles on the board at the luncheon, provided by Sodexo, held at Huntington University.
The 2023 board leadership includes Brock Zehr, top left, Huntington University, assuming the role of chairman of the board. Other board members on the executive committee are Todd Latta, top right, Parkview Huntington Family YMCA, chairman-elect; Bob Caley, bottom left, Bob Caley Realtor – RE/MAX Results, treasurer, and Doug Selig, bottom right, Parkview Huntington Hospital, assistant treasurer.
John Garrott, 2022 Chair of the Board, Beacon Credit Union, was honored by receiving his chair plaque from Zehr. The Chamber thanks Garrott for his service and leadership as chair of the board for 2022, and his dedication to the Chamber's activities over the years.
Garrott recognized the outgoing members of the board to include Eric Fawcett, Bippus State Bank and Darlene Stanley, JJ's, for their years of service on the Chamber board.