Former Vice President and family visit Center
Friday, July 29, 2022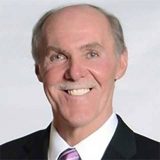 Posted by: Steve Kimmel
In a welcome return, former Vice President Dan Quayle and his family came back home to Huntington this week to visit with the Quayle Vice Presidential Learning Center staff and board and tour the Center facility and its exhibits.
Quayle, Ben and Tiffany Quayle and their children joined the Center's board members and staff at Nick's Kitchen for tenderloins for lunch. As old friends gathered to catch up, onlookers asked to have photos taken with the former vice president.
Following lunch, the group walked to the Learning Center where Quayle and his family toured through the Center's exhibits. Quayle took delight in pointing out the various artifacts on display to his granddaughters. Evie, Willa and Tori seemed excited to see the pieces from the 44th vice president on display, and especially loved having their photo taken with the likeness of their grandfather.
During the visit, staff and board exchanged updates with the Quayles about the ongoing renovations to the facility and especially about the anticipated return to a full school field trip schedule in the 2022-2023 school year which has been disrupted the past two years by the COVID-19 pandemic. The family finished the homecoming with a group photo on the steps of the Center.