David Souder retires after 47 years of service
Friday, June 9, 2023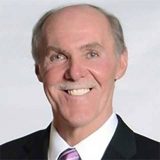 Posted by: Steve Kimmel
Jon M. Brown, president of the United Methodist Memorial Home board of trustees, recently announced that David P. Souder has retired as chief executive officer/administrator from the corporation effective May 1, 2023.
Souder began his 47-year career at UMMH in 1976 after graduating from Indiana University with a degree in Business Administration. He served as associate administrator from 1976 until 1993 at which time he was appointed CEO/Administrator and Foundation Director. Souder, along with his father, Philip Souder, and grandfather, Dr. D.C. Souder, have served UMMH for more than 85 years.
Under David's leadership, there have been many additions and remodeling projects at the Heritage Pointe of Warren campus. It is also home to Dogwood Glen Villas and Dogwood Glen Golf Course. In addition, Heritage Pointe of Huntington was built in Huntington in 2001 to serve the community. In 2014, the Heritage Pointe of Fort Wayne campus and villa community were constructed in Allen County to serve that population.
Souder said that he is tremendously grateful to all of the dedicated employees whose mission is to care for the residents at all of our communities. He is honored by all of the residents who choose to live on their campuses and make them their home.
Brown, on behalf of the board of trustees, praised David for the extraordinary job he has done over his lengthy tenure, his professionalism and Christian values, which always lived up to the mission of UMMH.