Chamber leadership transitions January 10
Thursday, January 13, 2022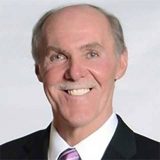 Posted by: Steve Kimmel
The transition of leadership of the Huntington County Chamber of Commerce's Board of Directors took place Monday, January 10 at the January board meeting. The new directors assumed their roles on the board at the meeting held at Huntington University with a luncheon provided by Sodexo.
The leadership of the Chamber made the difficult decision to cancel the annual dinner for 2022. With COVID cases continuing to rise, the board believes large gatherings are still unwise.
The 2022 board leadership includes John Garrott, Beacon Credit Union, assuming the role of chairman of the board. Other board members on the executive committee are Brock Zehr, Huntington University, chairman-elect; Todd Latta, Parkview Huntington Family YMCA, treasurer and Bob Caley, Bob Caley Realtor – Century 21 Bradley, assistant treasurer.
Darlene Stanley, 2021 Chair of the Board, JJ's, was honored by receiving her chair plaque from Garrott. The Chamber thanks Stanley for her service and leadership as chair of the board for 2021, and her dedication to the Chamber's activities over the years.
Stanley recognized the outgoing members of the board to include Sonya Foraker, Parkview Huntington Hospital, and Erin Covey, MetroNet.
New to the board of directors for 2022 include Doug Selig, Parkview Huntington Hospital, and Heather Eash, Pro Resources Staffing Services.
The Chamber board wishes to express their appreciation to the many entities that provided service to the community for 2021. Heartfelt thanks go to front-line workers such as hospital employees, emergency service workers, truck drivers and essential business employees. Teachers are especially thanked for adapting to a new way of teaching and caring for students.
Clergy, elected officials of city and county government, city and county employees, the health department employees and others deserve praise for making the difficult decisions that keep the community safe. The board also appreciates industry and the changes that were made in the way business was accomplished.
The Chamber also recognizes our not-for-profit community. Not-for-profits survive on the generosity and gifts they receive from the community. Without the capability of holding meetings and/or events, we are sure it was difficult making budgets this past year, but they continued and survived during 2021.
In conclusion there is not a single business in Huntington County that has not been affected by the pandemic. When faced with challenges, the business community of Huntington County always rallies around our citizens, and supports each other to find a way to get through tough times. The Chamber looks forward to a brighter 2022.
Shown on the top row is John Garrott, 2022 Chairman, Beacon Credit Union, as he presents the 2021 chair plaque to outgoing 2021 Chair Darlene Stanley. The bottom photos show the executive committee of the 2022 board of directors. From left, are John Garrott, Beacon Credit Union, Chairman; Brock Zehr, Huntington University, Chairman-Elect; Todd Latta, Parkview Huntington Family YMCA, Treasurer, and Bob Caley, Bob Caley Realtor – Century 21 Bradley, Assistant Treasurer.