Trinity UM to hold Easter concert, April 10
Thursday, March 31, 2022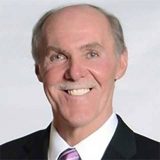 Posted by: Steve Kimmel
Trinity United Methodist Church, 530 Guilford Street, will hold an Easter Season Concert on Sunday, April 10. The concert will begin in the sanctuary at 4 p.m.
Following the format of the major Worship Arts concerts of recent years, the Easter Season Concert features vocal and instrumental soloists of Trinity United Methodist Church and the community, the HIM Singers and the Trinity Handbell Ensemble on the first half of the concert. The Trinity Chancel Choir's presentation of a choral cantata will be held during the second half of the concert.
This year's musical is Joseph M. Martin's Footprints in the Sand: A Journey to the Cross and Beyond. This concert offers the opportunity to reflect on the journey of Lent, the events of Holy Week and the Resurrection we will celebrate on Easter Sunday.
From the inspired pen of Joseph Martin comes a new sacred work that will be a true inspiration to your walk of faith. Tracing the steps of the Savior from Galilee to Emmaus, this new cantata is appropriate for Holy Week or Easter services. Footprints in the Sand has a gently contemporary flavor and incorporates two narrators, well-known hymn tunes, newly composed anthems and several best-selling choral songs. Specific to Trinity's presentation, congregational singing of beloved hymns of the season will be included.
Those attending will have an accessible parking lot and are asked to enter at Door #7, or the west entrance.
This concert is free and the public is invited to attend.