"The Best We've Got: Erskine Story," February 2
Friday, January 27, 2023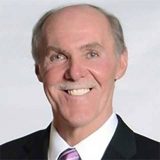 Posted by: Steve Kimmel
Join Special Olympics of Huntington County for a powerful evening together viewing "The Best We've Got," an uplifting new film about a true Hoosier hero! There is no admission to attend.
Carl Erskine played for the Brooklyn Dodgers alongside Jackie Robinson — the first Black player in Major League Baseball.
The film also shares the story of Erskine's son Jimmy, who was born in 1960 with Down syndrome. At the time, doctors urged Erskine and his wife, Betty, to institutionalize Jimmy, but instead they took him home and raised him. Eventually they got Jimmy involved in Special Olympics here in Indiana. The family has been involved with the program for about 50 years now.
Erskine embodies the spirit of the Special Olympics movement as they're working toward a more inclusive world for people with intellectual disabilities. That's why Special Olympics Indiana is so proud to support this film project.
Although Erskine is probably best known as a baseball player, "The Best We've Got" is so much more than a sports movie. Erskine, who is now 96 years old, has been a lifelong champion of acceptance, inclusion and servant leadership. Everyone can connect with those inspiring messages.
Join Special Olympics of Huntington County on Thursday, February 2, 6 p.m. at the Huntington 7 Theater for this free viewing.