McCabes to be honored with annual award
Friday, August 25, 2023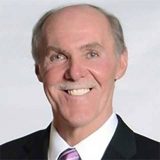 Posted by: Steve Kimmel
The Huntington University Foundation is pleased to announce that Al and Rita McCabe, right, are the recipients of the 2023 Distinguished Service Award. The McCabes will receive the award at the Foundation's annual dinner on Thursday, September 28.
The Huntington University Foundation established the Distinguished Service Award in 2002 to recognize individuals or organizations that embody the principles associated with the mission of the University. Recipients are chosen because they give substance and credence to the University's beliefs, make significant contributions to Huntington County and serve as effective role models for students.
The McCabes have been fixtures of Huntington University athletics for more than two decades. Before either Huntington University or Huntington North High School had official volleyball line judges, Al volunteered as a line judge. Before there was a dedicated concession stand at HU, he built a custom popcorn cart and candy displays. Together, the McCabes have managed the concession stands at Huntington University season after season, overseeing the volunteers and the successful operation of concession sales in Platt Arena and Forest Glen Park.
In Huntington County, the McCabes also have a long history of involvement. Rita has held leadership roles with the Union Thrifty and Paper Artisans clubs and the Huntington County Extension Homemakers, including five terms as Homemakers council president. She has also been on the Northeast Indiana Homemakers Camp committee multiple times, serving Homemakers in more than 10 Northern Indiana counties, and on the Open Class committee for the Huntington County 4-H Fair. She received the district Enthusiasm Award from the Indiana Extension Homeowners Association.
Founded in 1938, the Huntington University Foundation exists to support the mission of the University by promoting education and fostering a synergistic relationship between the University and the Huntington County community and surrounding area. To learn more about the Foundation's history and ways to support its goals, visit huntington.edu/Foundation.