John Trout selected as HCCSC superintendent
Tuesday, July 26, 2022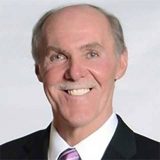 Posted by: Steve Kimmel
The Board of School Trustees formally approved John Trout as HCCSC's new superintendent during Monday night's special session board meeting. Trout replaces former superintendent Chad Daugherty, who left HCCSC for a position in South Carolina after 25 years of service to the HCCSC community.
Trout had been serving in the role on an interim basis since the beginning of July. Monday's decision to promote Trout to the full-time role makes him the ninth superintendent in HCCSC's history. Prior to Trout's interim superintendent stint, he served as the assistant superintendent for business and classified staff since February 28 after serving in the position on an interim basis beginning in January.
"The HCCSC Board of School Trustees is pleased to approve the hiring of Mr. John Trout as our new superintendent," said HCCSC Board of School Trustees President Matt Roth. "We truly believe that John's extensive experience in education, along with his deep roots in our community, will be a tremendous benefit to our school corporation. John has a long history of success in education, and we look forward to working with him to continue to enhance and improve learning opportunities at HCCSC."
A 1980 graduate of Huntington North High School, Trout completed his undergraduate studies in secondary education at Taylor University in 1984 before earning a master's degree in school administration from IPFW in 1989 and an educational specialist degree from Ball State University in 2007.
Trout began his career in education as a teacher at Etna-Troy Township School in Columbia City for seven years before spending 16 years as a building principal within Whitley County Consolidated Schools. Trout then went on to serve as the superintendent of the Madison-Grant United School Corporation for eight years and Concord Community Schools for four years. Outside of education, Trout also served as the executive pastor at the First Church of the Nazarene in Huntington for two years.
Trout and his wife, Cathy, have two daughters, Audrey and Allyson, and a son-in-law, Drew Schnitz, who are also proud Huntington North graduates.
"I want to thank the HCCSC Board of School Trustees for giving me this opportunity to serve as superintendent in my home district," Trout said. "The education that I received while as a student at Warren Elementary, Salamonie Junior High School and then Huntington North High School served as a foundation for me to build a professional career that I could have never imagined. As a lifelong resident of Huntington County, my wife and I could not think of a better school community to raise and educate our own daughters and we cannot begin to thank all of the teachers, administrators and staff who impacted their lives! We are truly grateful parents!"
"I look forward to working with our school board, teachers, administrators, staff, parents and community as we strategically and collaboratively work together to ensure that each and every one of our students receives the education they so richly deserve."