'JeFFFest' Arts event returns on June 19
Friday, May 27, 2022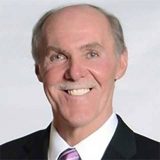 Posted by: Steve Kimmel
JeFFFest, the annual family-friendly event presented by the Lafontaine Arts Council (LAC), will be held on June 19 from 5:30 to 8:30 p.m. at the corner of Jefferson and Franklin Streets. The fabulous music, fine art and fun food bring an end to the annual Huntington County Heritage Days celebration.
The Todd Harrold Trio, featuring Harrold, Eric Clancy and Bob Bailey, will provide the music with sponsorship from Edward Jones. The musical entertainment will fill the streets of downtown Huntington for the duration of the event. The band sets up on the Courthouse steps across from the Huntington Arts and Entrepreneurial Center (HAEC) at 32 E. Franklin Street.
Artists of all ages and skill levels create artworks for the Small Canvas Silent Auction on the official JeFFFest canvases. Canvases can be purchased at HAEC through June 11. Entries must be turned in by June 15 to allow for framing and hanging. Huntington Sheet Metal is sponsoring the opening bid on each framed canvas. All proceeds from the donated canvas art are added to the LAC's Arts in Education programming budget.
New entertainment at the event this year includes youth arts and crafts activities in the creative studios at the HAEC. Further entertainment will also be added with a special performance by people supported by Pathfinder Services. The group will be performing the song "This is Me" from the musical drama, "The Greatest Showman."
The local food fair features an array of area food vendors, each providing taste-size portions of their cuisines. Tables and chairs will be available for attendees, but everyone is encouraged to bring their own chairs to guarantee having a seat during the festivities. The vendors will be set up in the parking lot west of the HAEC. People attending JeFFFest will purchase food tickets at one of two ticket booths. Cash and credit cards will be accepted.
There is no admission fee to attend JeFFFest. All proceeds from JeFFFest go toward the LAC's Arts in Education programming. Follow the Lafontaine Arts Council Facebook page, visit the website www.lafontaineartscouncil.org, or call LAC Executive Director Katy Strass at (260) 358-0055 for more information.