Insurance Management Group earns recognition
Friday, June 24, 2022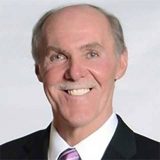 Posted by: Steve Kimmel
Continued growth fueled by a focus on serving others and an employee-focused culture has earned Marion-based Insurance Management Group (IMG) national recognition for excellence.
Rough Notes, a highly respected national publication covering the independent property and casualty insurance industry, named IMG its Agency of the Month for May 2022 and highlighted the agency as the cover story for its May issue. Each issue of Rough Notes reaches approximately 35,000 independent agents around the country monthly.
The story traces IMG's roots from its founding in 1875 to its purchase in 2015 by Trent Dailey, who as CEO has overseen exponential growth in the agency's team and revenue. Dailey's move to sole owner and CEO brought a shift in focus, prioritizing client interests, employee care and community involvement.
"This is an incredible honor for our entire team – and a direct result of their continued commitment, dedication and effort," said Dailey. "Our culture has evolved into a caring, service-oriented one, where each person in the agency focuses on doing the best job for our clients. We're strong believers that by providing the best client experience, we organically create the best employee experience. Being named Agency of the Month by Rough Notes is important confirmation and recognition of that mindset and approach."
Along with enhancing employee and community culture, IMG has also made strides in streamlining the client experience. The agency pairs its expertise and extensive carrier knowledge with technology to ease the way of doing business and ensure that their clients are being served to the highest level of satisfaction. IMG has found that the best way to serve their clients is to take the time to learn and understand each individual client's unique situation.
"We truly believe our unique approach and culture empowers us to offer clients the scale and resources of a large agency combined with the personal touch and individual service of a small agency," said Todd Dailey, IMG's president and CEO. "When we take care of our people, they take care of our clients. It creates a cycle of caring that feeds on itself – and continuously empowers us to 'wow' our clients with our service and commitment."
This is the second major recognition IMG has earned recently. In January, Big I Indiana named IMG its 2021 Agency of the Year, the highest recognition for independent insurance agencies in the state of Indiana. The Big I Indiana is a 550-member trade association formed to provide a unified voice in shaping a positive insurance environment in Indiana and represent agencies at the national, state, and local levels. Each year, this highly prestigious title is awarded to one selected member independent insurance agency that exemplifies leadership and innovation within the independent agency system.