HU's gym to be ready for the 2023-24 season
Friday, August 11, 2023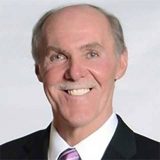 Posted by: Steve Kimmel
This summer has been very busy at Huntington University with all the construction taking place on the campus. There is still plenty of work to be completed but the new gymnasium is beginning to take shape.
Shown in the photo above is the new gym in progress that will host the Huntington University Foresters in the upcoming season. The gym is taking shape, but several more additions will take place prior to its being ready for use around Labor Day. More basketball rims need to be installed along with the scoreboard and more. The gym will come with everything new including the sound system.
Coach Kory Alford said, "This year's team is going to begin the season ranked in the top three in the league and should be ranked in the top twenty nationally." He feels his team is going to do some great things this season.
The Chamber encourages anyone that has never attended a Forester game in the past to attend this year. Once you start following Forester basketball, you will be hooked. It is some of the best basketball you will see in the area.