Hanover College loans Center portraits as Quayle Center celebrates 30 years
Friday, September 1, 2023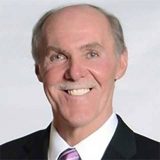 Posted by: Steve Kimmel
Formal portraits of two former United States vice presidents were presented on long-term loan to Huntington's Quayle Vice Presidential Learning Center at a recent private ceremony.
Officials from Hanover College were on hand to make the gift of paintings of Mike Pence, the nation's 48th vice president, and Thomas Hendricks, its 21st vice president. Both are Hanover alumni and are among six Indiana residents who have served as vice president.
The presentation ceremony on Saturday, August 26, preceded a Community Open House marking the 30th anniversary of the dedication of the Quayle Center at 815 Warren Street. The open house was associated with the City of Huntington's 175th Anniversary Celebration.
Hanover College Board of Trustees Chair Elaine Kops-Bedel made the gift on the college's behalf. She was accompanied by Hanover President Lake Lambert and several other trustees.
Accepting for the Quayle Center was Mike Quayle, brother of Dan Quayle, the 44th vice president. He relayed thanks from his brother, who was unable to attend the ceremony due to travel commitments.
"Personally, it's hard to believe it's been 30 years," Dan Quayle said in a letter to Learning Center President Marj Hiner and its executive director, Daniel Johns. "However, reaching such a significant milestone is testament to your dedication and commitment to education and lifelong learning."
His letter continued: "Today, The Learning Center will receive the portraits of Vice President Thomas Hendricks and Vice President Mike Pence, both graduates of Hanover College. This adds a meaningful historical and educational dimension. May The Quayle Vice Presidential Learning Center continue to be a beacon of educational excellence guiding students to a better understanding of American history."
Both Quayles are former Huntington residents. Dan Quayle now lives in Paradise Valley, Arizona, while Mike Quayle resides in Chattanooga, Tennessee.
Mayor Richard Strick opened the ceremony with remarks thanking both the Learning Center, for its commitment to the community, and Hanover College, for its gift of the portraits, which will be displayed at the Learning Center through at least calendar 2024.
"Your unique collection and thoughtful curation of vice-presidential history and memorabilia better connect all of us to the legacy of our hometown, our state and our nation, in turn helping to guide us into Huntington's future," Strick said.
Pence was vice president under Donald Trump and is an announced candidate for the Republican presidential nomination in 2024. Hendricks, a Shelbyville resident, was vice president in 1885 during President Grover Cleveland's first term but died after less than nine months in office.
In addition to Dan Quayle, who served as vice president from 1989-1993 under President George H. W. Bush, the other vice presidents who hailed from Indiana were Schuyler Colfax, with President Ulysses Grant (1869-1873); Charles Fairbanks, with President Theodore Roosevelt (1905-1909); and Thomas Marshall, with President Woodrow Wilson (1913-1921). Marshall was a native of North Manchester