FW Marketing opens new office at Electric Works
Friday, May 26, 2023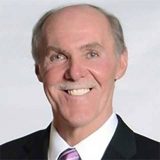 Posted by: Steve Kimmel
A ribbon cutting was held at the new offices of Fort Wayne Marketing by the Huntington County Chamber of Commerce. The new offices of Fort Wayne Marketing opened in Electric Works in downtown Fort Wayne. The firm has additional offices at the Northeast Indiana Innovation Center and an office in Huntington. Shown in the photo above, cutting the ribbon, is Fort Wayne Marketing founder, John Paff, center. Also shown in the photo are employees of the business along with friends and other well wishers. The Huntington County Chamber of Commerce thanks Fort Wayne Marketing for the opportunity to 'cut the ribbon,' and allowing us to share in their celebration.
On Friday, May 19, Fort Wayne Marketing celebrated an official ribbon cutting ceremony at its new office suite at Electric Works, 1690 Broadway, Building 19, Suite 10, Fort Wayne.
The move marks a significant step in the firm's history and opens doors for new growth and opportunity. Since its founding in 2018, the agency has grown from a one-person operation to a full-service team, offering a wide range of marketing services from brand strategy and video production to social media management, web development and more.
"We specialize in strategic partnerships with mid-sized, often family-owned businesses
(the makers) and nonprofits (the difference makers)," said John Paff, the agency's founder. "We are deeply committed to our regional community – especially to those who want to catalyze further growth and success."
The new suite of offices accommodates the firm's growing team and offers an on-site video and photography studio, as well as well-appointed meeting spaces and all the amenities available at Electric Works.
"Our name is Fort Wayne Marketing," said Paff, "but we have served clients across Northeast Indiana, as well as Los Angeles, Denver, Minneapolis, Milwaukee, Baltimore, New York, and greater Washington, D.C. As a Midwest agency with a national reach, we offer fair deals, deliver real value, and strive to treat people with integrity, honesty, and kindness. It's just how we do business."
"With additional offices in downtown Huntington and at the Northeast Indiana Innovation Center, the firm is rapidly developing a regional footprint to serve its expanding client base. Northeast Indiana has a very vibrant vision and plan for the future," said Paff, "and we are excited to be part of it."