First Federal opens second location in Warsaw
Friday, June 17, 2022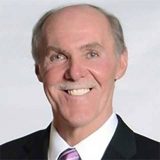 Posted by: Steve Kimmel
A ribbon-cutting ceremony took place Wednesday, June 8 at noon at the new location for First Federal Savings Bank of Huntington at 445 West 250 North in Warsaw, Indiana. Michael Zahn, president and CEO of First Federal Savings Bank, welcomed local guests and bank representatives.
Zahn said, "I want to thank the leadership of my father, Stephen E. Zahn, and my grandfather before him. Along with the board of directors, who enabled us to make this addition to the Warsaw community. We pride ourselves on being a 'hometown' bank where decisions are made locally, and customer needs always come first. We hope to be an asset to the community and look forward to continuing a long and rewarding relationship with Warsaw."
First Federal has staffed the office with local residents, including Peggy Genshaw, the branch manager, and Juli Eckel, a business development representative and commercial lender. Genshaw comes to First Federal Savings Bank with many years of banking experience. She serves as the board president for the Syracuse-Wawasee Historical Museum, a member of the Kosciusko County board of realtors and of the Syracuse Lake Association.
Eckel is well versed with her banking, commercial lending, business development and treasury management experience that she brings to First Federal Savings Bank. She is very involved in the community through serving on the boards for the United Way of Whitley and Kosciusko County, Main Street Warsaw and the KWCH.
The bank started in 1912 and has three full-service locations in Huntington, two locations in Fort Wayne, and another location in downtown Warsaw in addition to the North Warsaw location.
"Warsaw is a natural extension of our banking services, because of the "hometown" feel we have about Warsaw," said Zahn.