Financial Peace classes begin on October 19
Friday, September 30, 2022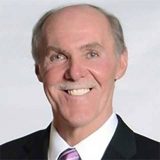 Posted by: Steve Kimmel
SS. Peter & Paul Catholic Church announces that they are offering the Dave Ramsey Financial Peace University class for the first time completely free. SS. Peter & Paul Church has purchased a site license for the class as a ministry to offer it free to anyone that attends.
Come learn how to put your money stress behind you, pay off debt and improve your financial future for your family!
In Financial Peace University (FPU), you'll learn how to:
Take control of your money
Attack debt with a vengeance and pay it off fast
Save for emergencies
Choose the right insurance plans
Invest wisely and build wealth
Give generously (the best part)
The class will be held at SS. Peter & Paul Church in the Parish Center (smaller building on Poplar Street side at 765 Poplar Street), starting on October 19. The group will meet every Wednesday at 6:30 p.m. for nine weeks and about 90 minutes per week.
More information about FPU can be found at RamseySolutions.com/fpu.
Contact Nick Stanley with questions at (260) 224-0581 or c.nick.stanley@gmail.com.