Bowman wins USF Pay It Forward Scholarship
Friday, December 16, 2022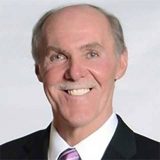 Posted by: Steve Kimmel
Shown in the photo, left to right, are USF Executive Director of Enrollment Management Michelle Kuhlhorst, Julie Scher, Audrie's mother, Audrie Bowman, Rylie Bowman, Audrie's sister and USF President Rev. Dr. Eric Albert Zimmer.
Huntington North High School senior Audrie Bowman received a life-changing surprise last Friday, as she was announced as the University of Saint Francis (USF) Pay It Forward Scholarship winner. The scholarship provides the winner with a full-tuition and fees scholarship to attend USF for four years, a value of $140,000.
Bowman was honored as the scholarship winner with a surprise ceremony during seventh period on Friday, led by USF President Rev. Dr. Eric Albert Zimmer and WANE-TV's Emily Dwire. Bowman's mother and sister, many of her friends and classmates and Huntington North High School administrators attended the ceremony in support.
According to USF, the Pay It Forward Scholarship is awarded annually to one incoming USF student who goes above and beyond to serve others and "pay it forward." The scholarship was created in 2017 as part of USF's commitment to honoring Franciscan values, particularly the call to "serve one another, society and the Church." The scholarship was designed with the intention of recognizing incoming students who display exceptional selflessness through acts of kindness and service. Students must submit an essay with their scholarship application detailing how they pay it forward.
In her essay, Bowman shared about two life-altering events that have shaped who she is and have motivated her to give back to those around her: As a child, Bowman spent time at Riley Children's Hospital to receive treatment for a bone tumor in her leg, and at the age of 10, her father passed away in a car accident. While at Huntington North, Bowman has played an instrumental role in leading two groups that help others going through the exact things she went through as a child.
Bowman is the president of Huntington North's Riley Dance Marathon, a group that raises funds for Riley Children's Hospital. The group has raised over $30,000 under Bowman's leadership and aims to raise another $10,000 this school year.
Bowman also helped start the deceased parent support group at Huntington North High School to aid fellow students suffering from the loss of a parent.
"I feel like my life has been a consistent sequence of me using the skills and lessons and the advice that I learned through growing through that process to be able to pay all of that forward," Bowman said in an interview with Dwire after being named as a finalist for the scholarship.
Bowman said at Friday's ceremony the scholarship and opportunity to attend USF gives her security and a foundation for her future. Bowman plans to study pre-dental at USF.
During her interview with WANE-TV, Bowman had a simple yet powerful message calling people to make a difference.
"The more that people pay it forward in life and the more that people help others, the more that we're going to be happy and be able to be a big unit and be a happy world," Bowman said. "Do something not because you have to, but do something because you can. Do something because you are able and willing to help somebody out."