Wappes approved as next principal of Riverview
Friday, March 24, 2023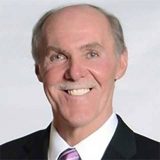 Posted by: Steve Kimmel
Shown in the photo above from left, are Matt Roth, HCCSC school board president; Chuck Brimbury, HCCSC Director of Secondary Education; Jaymee Wappes, the new 2023-24 principal for Riverview Middle School and John Trout, HCCSC Superintendent.
The HCCSC Board of School Trustees formally approved the hiring of Jaymee Wappes as the next principal of Riverview Middle School during a recent board meeting. Wappes, who currently serves as Riverview's assistant principal and athletic director, will take over as the principal starting in the 2023-24 school year, as current Riverview principal James Bragg will be retiring following the 2022-23 school year.
Wappes joined the Riverview family in July of 2021, bringing over 20 years of experience in education with her in various roles. Wappes is a 2000 graduate of Bowling Green State University.
Although the 2022-23 school year is just the second for Wappes at Riverview, she has quickly endeared herself to the Riverview community.
"Jaymee has done a tremendous job in her leadership," said Director of Secondary Education Chuck Brimbury during the recent board meeting. "I've never received so many letters and emails about 'Please consider (who) is now Principal Wappes' in terms of her leadership abilities. She's kid-based, but she also is doing a wonderful job with Mr. Bragg."
Wappes prides herself in a vision of educational excellence, as she values partnerships with internal and external stakeholders, believes in sustained support for teachers, appreciates extra curriculars and aims to prepare students to become responsible and productive citizens of society through quality student learning experiences.
Upon being approved during the board meeting, Wappes stepped up to the podium, giving thanks to individuals who have played an instrumental role in helping her reach this step in her career. Wappes also touched on what excites her about the opportunity to lead Riverview next school year.
"I know my staff, I know that I care about them; I know my kids and I know that I love them," Wappes said. "I think your investment is different when you know that you care about and love the kids and people that you're working beside and with and for, and because of that, I feel just an incredible responsibility to make this the best job that it can be, to do the best job that I can for the people that I know are going to go out into our community and serve us."