State revenues again beat estimates
Friday, January 20, 2023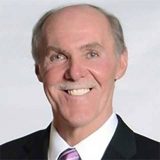 Posted by: Steve Kimmel
Indiana's revenue collections for December continued to outpace projections.
The Indiana State Budget Agency said last week that General Fund revenues last month totaled $1.7 billion, which was 1% above the December 2022 forecast and 2.9% higher than the same month the previous year.
The agency said better-than-expected collections from individual income tax and interest revenues outweighed lower-than-expected collections from sales tax and corporate taxes.
Sales tax collections totaled $855 million last month, while corporate taxes totaled $150 million. Those numbers are 2.3% and 2.7% below projections, respectively.
Year-to-date, General Fund revenues totaled $9.6 billion, which is $17.4 million above the December forecast and 6.9% higher than the same period in the previous fiscal year.
The Indiana General Assembly this week began its biennial budget writing session. During his State of the State address on Tuesday, Gov. Eric Holcomb touted the state's revenues of more than $21 billion at the end of Fiscal Year 2022, nearly $6 billion higher than his first year in office.
The governor said looking forward, the state's revenues are expected to exceed spending by $2.3 billion and grow by another 3% in each of the next two years.
You can connect to the full December 2022 revenue report by clicking here.