Sponsor needed, colors for Heritage Days
Friday, January 20, 2023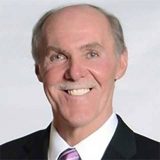 Posted by: Steve Kimmel
Huntington at 175 years will be the theme of Heritage Days 2023, Wednesday, June 14 through Sunday, June 18. A sponsor for Heritage Days events is needed. The official logo appears at the right, and the official colors of Heritage Days, coinciding with the button, are navy blue, gold and red.
Known as the "demisemiseptcentennial," Huntington's incorporation as a town took place February 16, 1848, 175 years ago, and Huntington received city status September 17, 1873, 150 years ago. For city status to be achieved in those years, the town was required to have 3,000 residents.
Heritage Days are coordinated by a Steering Committee of the Huntington County Chamber of Commerce. The corporate sponsor for Heritage Days receives recognition on all materials related to Heritage Days including news releases, badges, yard signs, social media and more. Those interested in sponsorship can contact the Huntington County Chamber of Commerce at (260) 356-5300 or email: skimmel@huntington-chamber.com.
The rich history of our community will be shown through Heritage Days along with a variety of other events throughout the year. These events are soon to be announced and have been organized by a committee directed by the City of Huntington.
Poor Jack Amusements will provide the midway and carnival rides for 2023. Rides and activities will be located in the Cherry Street area from Wednesday, June 14 through Sunday, June 18. Streets involved with the carnival will close on Monday, June 12 at 3 p.m. to allow for set-up.
The Heritage Days Parade will take place Saturday, June 17 at 10 a.m. Participants are encouraged to represent Huntington's 175 year history with their entry. Promotion can also be shown through floats built by individuals or organizations.
Activities that will also be a part of this year's Heritage Days festivities include the traditional Chief of the Flint Springs Tribe breakfast and the annual Rotary Strawberry Feed on Thursday evening. A car, truck, bike and motorcycle show will take place on Friday evening in downtown Huntington. A new event planned for this year's celebration is a Gus Macker 3-on-3 Basketball Tournament.
Saturday afternoon following the parade will bring the Fun Zone, full of children's activities, which will include bounce houses, free pony rides and a petting zoo, games provided by the library and more. A car show and hot air balloon festival at Huntington North High School will begin mid-day on Saturday and a balloon glow will take place on Saturday evening.