Ribbon cutting held at Bolinger's Propane
Friday, September 23, 2022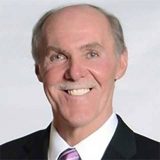 Posted by: Steve Kimmel
Shown in the photo are several family members, friends, local business owners and members of the Huntington County and Warren Area Chambers of Commerce. Cutting the ribbon is Scott Canady, center, and his wife, Gina, to his left.
Bolinger's Propane Service, Warren, held a ribbon cutting at their new location at 115 N. Wayne Street in downtown Warren on Monday, September 19. Bolinger's Propane Service is back in the building where the company was founded nearly 75 years ago.
Bolinger's Propane Service began as a local, family owned business servicing Warren, Huntington, Blackford, Wells, Grant and the surrounding counties since 1948. In September 2021, AgBest Cooperative, Inc. announced its acquisition of Bolinger's Propane Service as part of their Propane Fuel Division, while Warren Service and Supply continues to resume its operations independently. AgBest is committed to providing the same high-quality products and service with which Bolinger's reputation was built.
AgBest Cooperative, Inc. is a member owned cooperative who has been in business since 1930. They not only provide liquid propane, but also petroleum and agronomy products throughout East Central Indiana and have branches in Muncie, Gaston, Dunkirk, Hartford City, Bluffton, Eaton and Pennville. According to their website, "they are very excited to partner with Bolinger's Propane Service and its wonderful employees, and look forward to putting that experience to good use for the customer."
The Huntington County Chamber of Commerce thanks Scott and Gina Canady for the many years of propane service to the area and wish Mike Couch, president and CEO of AgBest, our best with their recent acquisition of the business.
You can reach Bolinger's Propane Service by calling (260) 375-4505.