Planet Fitness to open in former Marsh in May
Friday, March 18, 2022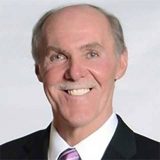 Posted by: Steve Kimmel
Planet Fitness is scheduled to open in the former Marsh Supermarket, South Jefferson Street, in May. Michael Kinder and Sons, Inc. (MKS), Fort Wayne, are the general contractors for the project.
According to MKS, "The project is moving along nicely and they believe the May timetable will be reached."
"The 18,000 square foot Plant Fitness will be completely new with weight rooms, exercise rooms, men and women's lockers and suntan beds," stated the general contractor.
"We have remodeled other buildings in the region to be retrofitted for Planet Fitness and once we are done in Huntington, we plan to move on to other Planet Fitness projects in the area," he continued.
According to the Planet Fitness website, "No matter what you're looking for in a gym, we've got a membership option made for you. All Planet Fitness members enjoy unlimited access to their home club and the support of our friendly, knowledgeable staff anytime you need it."
Planet Fitness Black Card® members receive additional benefits including the ability to bring a guest for free, and access any of our 2,000-plus Planet Fitness locations.
If their members are looking for a little extra guidance or inspiration to help meet their fitness goals, as a Planet Fitness member, you can take advantage of their free fitness training or find your motivation by reading real member experiences on Planet of Triumphs.
It is their goal to provide a clean, safe, welcoming environment for anyone who walks through their door, and all the equipment, amenities and support needed once their members are in the facility.