New Life Ministries shares success story
Friday, September 2, 2022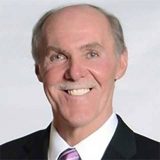 Posted by: Steve Kimmel
New Life Ministries is excited to share another Life House graduate success story for this year. Recently, Chrissy graduated from the Women's Life House program. At the Spring Banquet, Chrissy shared a little about her story and experience at the Women's Life House.
Chrissy had been at the Women's Life House prior to her recent stay. What brought her back was an arrest that had her sitting in jail for 6 1/2 months, waiting to be sentenced by the Drug Court program.
Chrissy said, "During that time, I prayed God would set me free from addiction, and that the Lord would put it in sister Carla's and Pastor Jimi's hearts to open the door for me to come back to the Women's Life House so I could get myself back on my feet the sober and stable way."
And that is what happened. Chrissy came back to the Women's Life House and worked hard to make the changes she needed to make. Upon graduation, she has big plans.
Chrissy went on to say, "My plans after graduation are to remain sober and to stay strong in my faith. I am looking forward to building stronger relationships with my two girls. I'm also going to continue to save money and remain in the Drug Court for about 10 more weeks to graduate this too. Then I am planning on moving towards Tennessee to build a future and hopefully do some sort of work with others in recovery."