New Life Ministries open new Life House
Wednesday, February 2, 2022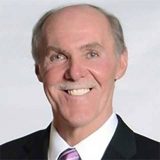 Posted by: Steve Kimmel
After long months of renovations and construction projects, the Men's Life House is ready to open its doors to the men in need in our community, according to the New Life Ministries' newsletter.
The Men's Life House officially opened Thursday, February 3 with Carl Esque as the new director. Esque says he has been married for 33 years and has two children who are also in ministry work. He graduated from Baptist Bible College, and has worked in ministry for 30 years as a pastor, youth pastor and church planter.
The newsletter further stated, "The ministry has been a long time coming. Since receiving the vision for New Life Ministries back in 2006, the Men's Life House has always been on the list. Although we thought it would have been first, God had different plans and has helped better prepare us for opening the doors now. The Men's Life House is designed to help and serve men in need. With Christ at the center, men in this program will work towards living a better and healthier life all around."
New Life Ministries would like to thank the many people who helped get the ministry ready. Many volunteers gave their time to help work on the house and even more helped financially support this home before the doors even opened. All the support has been a true blessing and New Life Ministries would like to say 'thank you' to everyone.
Those wanting more information about New Life Ministries can contact the office at (260) 200-1372; Meal Ministry, (260) 519-3637; Women's Life House, (260) 200-1091 or the Men's Life House, (260) 388-0029.
Shown in the photo is Carl Esque, the new director of the Men's Life House and his wife, Tina.