Ness to be honored with award on December 14
Monday, November 21, 2022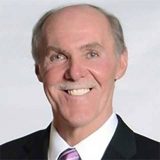 Posted by: Steve Kimmel
The Huntington University Foundation is pleased to announce that Steve Ness, owner of Ness Bros. Realtors & Auctioneers, will receive the 2022 Distinguished Service Award on Wednesday, December 14 at the December Foundation Breakfast.
Ness, a Huntington County native who has successfully run a real estate and auction business for more than 40 years, has long been a supporter of Huntington University — particularly the men's basketball program. He spearheaded efforts to start the Meet the Team event during the Steve Platt coaching years, and that event has continued for decades. Additionally, Ness sponsors the Hall of Fame Classic tournament each November.
"Steve is certainly recognized as a leader in our community," said Peggy Platt, wife of Steve Platt and friend of the Ness family. "When he is asked to help with something, Steve never says 'I'll try.' He responds with, 'I'd be glad to!'"
According to nominators, Ness has been very active with the Huntington County 4-H Horse & Pony project, the annual 4-H auction of livestock during the Fair and the biennial 4-H fundraising auction — all at no charge or fee to the 4-H program.
The Huntington University Foundation established the Distinguished Service Award in 2002 to recognize individuals or organizations that embody the principles associated with the mission of the University. Recipients are chosen because they give substance and credence to the University's beliefs, make significant contributions to Huntington County and serve as effective role models for students.
The Foundation Breakfast will take place in Habecker Dining Commons. Doors open at 7:30 a.m. and breakfast will be served at 7:45 a.m. The cost is $12 per person but is free to first-time attenders. RSVPs are appreciated.