McMillan opens new State Farm Insurance business in Huntington
Friday, January 7, 2022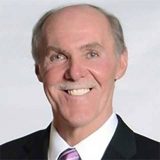 Posted by: Steve Kimmel
Eileen McMillan, the owner of a new State Farm Insurance business, which recently opened in Huntington. The new office is located at 2855 North Park Avenue, Suite 102.
After spending 27 years working for State Farm Insurance corporate office, McMillan found herself wanting something different and opening her own office was something she had always wanted to do.
Since opening her business in Huntington, she has been working with those interested in learning more about the insurance business. She has also made connections with Dr. Brock Zehr, business professor at Huntington University, and has been utilizing university students as interns, and coaching and mentoring those that might like to know more about the insurance business.
McMillan feels that by collaborating with other local businesses in the community, it helps all the businesses stay stronger and more relevant in today's business world. A cake used for the celebration that is shown on the Chamber website, was made by Bear & Beak Bakery, while iced pretzels presented to those in attendance were purchased at The Party Shop downtown.
Those interested in receiving a quote for insurance can reach McMillan at (765) 469-1989, by email at eileen.mcmillan.vacp7g@statefarm.com or by visiting her Facebook page here.
Shown in the photo, from left, are Charles Chapman, City Council, 1st District; Damon Kuhlenbeck, Derek Allen and Trish Marks, all from State Farm Insurance; Eileen McMillan, owner, State Farm Insurance – Eileen McMillan; Erin Mongosa, State Farm Insurance; Brock Zehr, Huntington University and Chamber board of directors; Ralph Mongosa; Bob Caley Realtor Century 21 Bradley and Chamber board of directors; Steve Godfroy, Perfection Wheel and Chamber Ambassador and Mayor Richard Strick.