Huntington County Coffee Connections, different look, time in February
Friday, January 7, 2022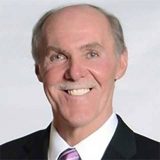 Posted by: Steve Kimmel
The highly successful Huntington County Coffee Connections hosted by the Huntington County Chamber of Commerce will have a different look at the February meeting. To ensure the meetings stay lively and able to continue to attract guests, the Chamber's plan is to begin hosting guest speakers from the area at some of our monthly meetings. Although there will be a speaker in February, those attending will still have ample time to 'network' with others in the room and grow those valuable relationships.
The next gathering will be held on Wednesday, February 2 in the Habecker Dining Commons at Huntington University. The meetings have been changed to 8 a.m. to accommodate more individuals that would like to attend.
The first guest speaker will be Kristen Ruble. Ruble's topic will be 'New Year's Resolution Shift to a Healthier, Happier Version of You.' You begin by shifting a short-term resolution approach to a more long-term sustainable approach for taking on health behavior change. We will understand where performance matters most, build a foundation from lifestyle medicine, identify reasons why new health behaviors usually do not stick and how we can create that sustainable change.
Ruble is a Certified Diplomat for the American College of Lifestyle Medicine and leverages her education, training and life experience to help people make long-term lifestyle changes that target the root causes of disease to improve health and wellness.
Ruble's continued research shows that lifestyle medicine has the potential to reverse most common chronic diseases that affect many Americans today. She has a Bachelors in Public Health from the University of North Carolina at Chapel Hill and a Masters in Health Education and Promotion from the University of Alabama. She is currently working toward her doctorate degree in Organizational Leadership focusing on healthcare leaders and their determinants of health.
Ruble currently works in wellness in our local hospital system. She concurrently holds a position to provide keynotes on the connection between leadership and well-being, with the purpose of achieving your best when it matters most.
Ruble founded the non-profit Live Healthy Hoosiers in 2013 to help leaders enhance their capacity to handle stressors in a world where lines are blurred between our jobs and personal lives. In her spare time, Ruble enjoys spending time with her family where she has a passion to live a healthy and vibrant life through endurance sports.
The gathering is free and no reservations are needed.