Historical Society elects officers, presents awards
Thursday, November 18, 2021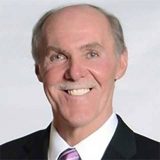 Posted by: Steve Kimmel
The Huntington County Historical Society met at the Huntington County Historical Museum Wednesday evening, November 17, to elect officers and new board members. The Virginia R. Miller Award, Volunteer of the Year Award and a special program were also presented.
Newly elected officers of the Historical Society include Gib Young, president; Richard Beemer, vice president; Amy Richert, secretary and Steve Hart, treasurer. New board members are Charles Chapman, Jim Wilson and Mark Stouder.
Mike Perkins presented the Virginia R. Miller Award to Mel Ring. The award had not been given since 2015. Ring was honored for his volunteerism to the Forks of the Wabash Pioneer Festival, exhibits that he has created at the Forks, the clock at Rotary Centennial Park and his association with the Mid-West Tool Collectors Association since 1972. Perkins stated that Ring has been involved in antique tool collecting at the national, state and local levels. Special mention was made of a replica, built by Ring, of a Chief Lafontaine rocking chair in use at the Forks.
Kevin Rupley, husband of new Historical Museum director Barb Rupley, was presented the Volunteer of the Year Award. Barb Rupley in presenting the award said, "As my first year as director, there is a lot I could not have done without his help."
Sharon Ruppert, outgoing vice president of the Historical Society, introduced the guest speaker for the evening. Bob Schmidt, president of the Canal Society of Indiana since 1991, spoke about the Wabash and Erie Canal in relation to Huntington County. He explained that the Wabash and Erie Canal was the longest canal, 468 miles, built in the United States and the second longest in the world.
The next event at the Historical Museum, 315 Court Street, will be Donuts with Santa on Saturday, November 27, from 10 to 11 a.m. Call (260) 356-7264 and leave a message, reservations are required. The museum is open Wednesday to Friday, from 10 a.m. to 4 p.m. and Saturday by appointment.