Heartland REMC, TWN to sponsor A B.I.G. Day
Thursday, August 19, 2021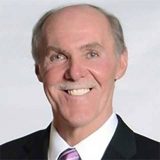 Posted by: Steve Kimmel

Heartland REMC and TWN Communications will be the sponsors of the 2021 Huntington County Chamber of Commerce's A B.I.G. Day Golf Outing. The golf outing will be held on Wednesday, September 15 at Maple Grove Golf Course. The golf course is located at 5961 W. Maple Grove Road.
Registration begins at 10:30 a.m. with lunch being served at 11 a.m. The event will begin with a shotgun start at 12 noon. Each team consists of six golfers with an entry fee of $85 per golfer. Golfers will be treated to lunch, dinner and six beverage tickets that may be used for beverages on the golf course throughout the day.
The first-place team will win $360; second, $180 and third place, $90. Deadline to register at a discounted price is Monday, September 6. The driving range will also be free to all golfers. Awards will be given out immediately following dinner.
For more information on the event, call the Chamber office at (260) 356-5300.