Funded partner applications are now open to county
Monday, January 3, 2022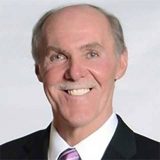 Posted by: Steve Kimmel
The United Way of Huntington County is now accepting applications from 501(c)3 organizations that serve Huntington County. The United Way is looking for all organizations that have a role in enhancing the quality of life for those in Huntington County in the areas of education, health and wellness and financial stability.
This is an annual, open and competitive process where funds are allocated toward one or more of the areas. All organizations must be able to demonstrate how they plan to produce outcomes in one or more of the issue areas and take part in transforming the community based on the metrics developed by the United Way board of directors. Organizations are vetted through the process and are required to report progress at least twice a year. Data must be tracked and reported based minimally on the metrics outlined in the United Way of Huntington County Community Investment Portfolio. This document is available upon request at the United Way office.
Letter of Intent applications are due February 4, 2022 and may be accessed online at huntingtonunitedway.org/partner-resources/ under "Community Impact Application." Only organizations who submit a Letter of Intent will be eligible to submit a full application. Organizations applying for multiple programs must submit a Letter of Intent for each.
Any questions may be directed to the United Way of Huntington County at (260) 356-6160.