Dinner and fundraiser announced for April 22
Friday, March 17, 2023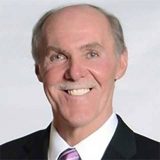 Posted by: Steve Kimmel
Pictured with the promotional banner for the Run for The Rams event, in the background, include from left to right, Derek Boone, principal, Huntington Catholic School; Mike Zahn, First Federal Savings Bank; Fr. Thomas Zehr, St. Mary Pastor; Fr. Tony Steinacker, SS. Peter & Paul Pastor; Nick Stanley, JJ's and Event Co-Chair; Andrea Stanley, JJ's and Event Co-Chair.
Run for the Rams, a dinner and auction that serves as the major fundraiser for Huntington Catholic School, has announced a new location.
The annual Run for the Rams will be held at the First Merchants Heritage Hall, Huntington County Fairgrounds, 631 E. Taylor Street, on Saturday, April 22. Doors open at 5 p.m., with bidding in the silent auction also beginning at 5 p.m. A catered dinner will be served buffet-style at 6:30 p.m.
Tickets include the dinner and an open bar of beer, wine and soft drinks. Tickets or sponsorships may be purchased by visiting the event here or contact the school at (260) 356-2320.
A live auction will be held after the dinner. The live auction will include items handcrafted by students in each of the classrooms. Live and silent auction items have been contributed by the priests, parishioners, school families and local businesses.
First Federal Savings Bank and JJ's Convenience Stores are the event sponsors, along with co-event sponsor, Bischoff Plumbing, Heating & Cooling.
Huntington Catholic School offers a Christ centered education to students in preschool through eighth grade. The school is open to Catholics and non-Catholics alike. More information about the school may be found at HuntingtonCatholic.org or email dboone@huntingtoncatholic.org.