Chamber offers promotion, networking opportunities and referrals
Friday, November 12, 2021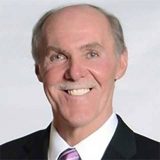 Posted by: Steve Kimmel
Members of the Huntington County Chamber of Commerce are offered many services free of charge. All Chamber members are given the opportunity to promote their businesses by sharing new hires, promotions, information about their respective businesses, activities that take place in a company, honors, accolades, upcoming events and more.
Chamber members are also afforded the opportunity to grow their personal contacts through the many different networking opportunities offered at the Chamber. The Chamber holds After Hours, ribbon cuttings, Ambassador group meetings, networking group meetings, seminars for small, medium and large-size businesses, Lunch 'n Learns for businesses of all sizes, internship opportunities, HR/Professional Development Group meetings and Leaders EDGE. Members find that when they "engage" in one of these groups, they gain opportunities to "build their businesses" with other professionals in the community looking to do the same thing.
As an added benefit, the staff at the Chamber will refer your business to anyone looking for the services you provide.
If you are a member of the Huntington County Chamber of Commerce, we thank you. If you are a future member, please call us and see how your investment with the Chamber of Commerce will produce dividends for you and your business.