Chamber holds ribbon cutting at UB Launch
Friday, December 3, 2021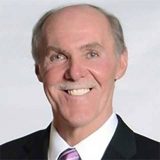 Posted by: Steve Kimmel
The Huntington County Chamber of Commerce held a ribbon cutting at Huntington University's UB Launch site, 40 E. Franklin Street, upstairs. The event was held on Thursday, December 2.
According to the university, the UB Launch is an enterprise of Huntington University and is used as a base camp for those ready to grow. Huntington University purposely designed their coworking environment to be a space where people can grow within a community, on their own or as a business when you have clients that you need a place to meet with them. UB Launch provides entrepreneurs and business owners the space and community to build enterprises that flourish.
The university offers affordable and flexible workspace when an individual is looking for coworking space to rent; month-to-month membership options; no long-term contracts; high-speed Wi-Fi; printer/copier/scanner access and private phone conference space where entrepreneurs can make a private call. The university also offers a conference room and training space access that can be reserved when you need them, and a mailbox where you can use the university's mailing address as your own for deliveries, packages and business needs.
John Paff, a client of the UB Launch, stated, "My business is in Fort Wayne, but I teach a few days a week at Huntington University. On the days I teach, having a professional workspace at UB Launch allows me to skip the commute and run my business from downtown Huntington. I'm less distracted than when I work from home, and the Internet service is much faster."
"I love the layout and look of UB Launch. It's got great collaborative space, as well as secluded areas when I need more privacy. For a remote worker like me it works great," said Joey Spiegel, another client of the coworking space.
For more information and pricing to rent space in the UB Launch call (260) 359-4352 or visit the UB Launch website at https://www.huntington.edu/business/ub-launch.
Shown in the photo, from left, are Mayor Richard Strick; Joey Spiegel, client of UB Launch; Giovanni Martinez Martini, Huntington University; Anita Wickersham, Associate Professor of Accounting and Business, Huntington University; Ann McPherren, Professor of Business and Economics/Assistant to the President for Program Development, Huntington University; Russ Degitz, Chief Operations Officer, Huntington University and Troy Irick, Assistant Professor of Business/Director of the Lilly Grant for Educational Collaboration, Huntington University. Pictured in the back row is Steve Kimmel, executive director, Huntington County Chamber of Commerce.