Bowen Center recognized, 5 Star AchieveWELL
Friday, September 23, 2022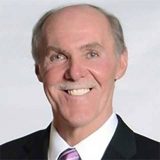 Posted by: Steve Kimmel
The Wellness Council of Indiana has designated Bowen Center as a 5 Star AchieveWELL organization. The Wellness Council of Indiana developed the AchieveWELL program to assist employers in creating a corporate culture that encourages and supports employee health through workplace wellness efforts.
Bowen Center was recognized this week at the 2022 Indiana Wellness Summit in Indianapolis. The 5 Star designation demonstrates that Bowen Center has developed a culture of health and well-being for its employees. AchieveWELL is divided into three levels: 3 Star, 4 Star and 5 Star. Each level requires a set of standards to be achieved before an organization can qualify.
Bowen Center has built a robust wellness initiative over the last five years to demonstrate a significant investment in its staff. "We are thrilled to have attained an AchieveWELL 5 Star rating because our employees' health and well-being is just as important as that of our patients," said Rob Ryan, president and CEO of Bowen Center. "By providing our staff with the tools and opportunities they need to live their best life physically, emotionally, socially, financially and more, we know that will be reflected in the quality of care our patients receive," said Dr. Ryan.
Being able to offer solid health and wellness benefits to its employees allows Bowen Center to recruit strong talent in a very competitive environment. "This distinction has very special meaning to us as the largest community mental health center in Indiana," said Mary Gerard, vice president of human resources at Bowen Center. "As we expand our services and move into integrated health care, it is vitally important to us that we make our employees' own health a priority. We must take very good care of those who care for our patients. We knew when we began this process that we would continue to strive for the highest level of achievement. At the Bowen Center, total health and wellness will always be an endeavor of continuous improvement," said Ms. Gerard.
To learn more about the AchieveWELL process, visit https://www.wellnessindiana.org.