Bippus selected Chief of the Flint Springs Tribe
Friday, June 17, 2022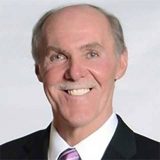 Posted by: Steve Kimmel
The 53rd Annual Chief of the Flint Springs Tribe Breakfast was held Thursday morning, June 16 at the Historic Forks of the Wabash with over 110 people in attendance. Stan Bippus was named the 2022 Chief of the Flint Springs Tribe in recognition of his contributions to the Fitness Park at Lake Clare and Huntington County.
Heritage Days 2022 celebrates 125 years of Christ, Scholarship and Service of Huntington Univerisity. John Garrott, Huntington County Chamber board chairman, opened the breakfast, and welcomed those in attendance. Garrott then introduced Dr. Sherilyn Emberton, president, Huntington University, as the master of ceremonies.
Emberton gave a brief history of Huntington University and its service to the community. Bob Burnsworth then spoke about his time as 2021 Chief and described the person who would be named the 2022 Chief.
Bippus was described as a teacher, principal and school superintendent. He also worked as Dean of Continuing Education at the United States Sports Academy in Daphne, Alabama and taught overseas and online. Bippus is a currently a member of the Huntington Lions Club and a founder of the Professional Piddlers Association – a group of retired gentlemen helping others in the community.
The Fitness Park at Lake Clare was organized and built under Bippus' direction with a retired group of friends and volunteers. Donations from various businesses and people in Huntington helped to fund the park. He also started the Community Garden in Huntington utilizing ground at Huntington North High School, recruiting volunteers and gathering donations.
Bippus works on his own and with his retired group to help people with small projects and needs. Recently they have been involved with building Library Book Boxes and bird houses. He kicked-off Heritage Days 2022 by stating the traditional "Let the games begin!"
The Huntington County Chamber of Commerce congratulates Bippus on being named the 2022 Chief of the Flint Springs Tribe.