Beacon names Dustin Cuttriss next president/CEO
Wednesday, November 24, 2021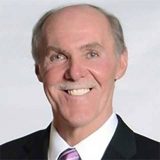 Posted by: Steve Kimmel
The board of directors of Beacon Credit Union (BCU) is pleased to announce that they have named Dustin Cuttriss as the next president/CEO. Cuttriss, BCU's executive vice president and chief financial officer, will assume the role after current president/CEO Kevin Willour retires at the end of 2022.
Ken Dale, BCU board chairman stated, "We are pleased that Dustin has agreed to take on the role of president/CEO. He is a seasoned executive within Beacon, has significant experience in all aspects of finance and strategic planning and is highly qualified to lead the Credit Union into the future."
"I am honored to have the opportunity to succeed Kevin Willour and continue to create value for Beacon's members and the communities in which we serve," said Cuttriss. "In working with BCU's senior leadership team and all our employees, I plan on continuing to build upon the strong foundation that Kevin has put in place. I am excited and confident about our future."
Cuttriss, has over 25 years of hands-on strategic experience within the financial services industry, including the last ten years as chief financial officer with BCU. He has been an integral part of guiding the strategic direction of the Credit Union in terms of financial impact of products and services, investments, mergers and acquisition evaluations, along with the development and modifications of internal policies and procedures.
Cuttriss received his BA, Business Administration from Indiana Wesleyan University and is a Certified Public Accountant. He has also completed the Graduate School of Bank Investments Financial Administration from the University of South Carolina and American Bankers Association Compliance School. He is a member of the Indiana CPA Society and American Institute of Public Accountants.
Cuttriss is a supervisory committee member of Corporate One Federal Credit Union. He also serves as a board member of Financial Managers Society, Waypoint of Wabash and Pilgrims Rest Cemetery of Huntington, Inc. Cuttriss resides in Roanoke, Indiana with his wife, Jessica, and their four children.